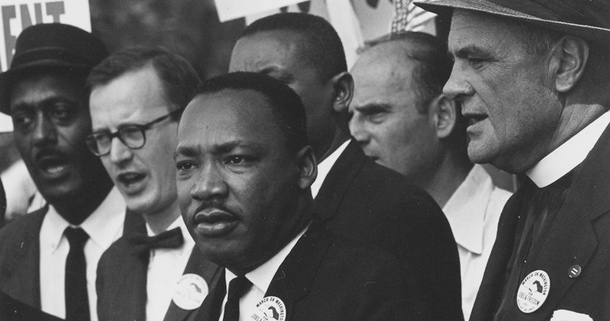 Today we celebrate the life and memory of Dr. Martin Luther King, Jr., who forever left his mark on our country with his famous "I Have a Dream" speech delivered on the steps of the Lincoln Memorial that historic day. His passion to put an end to racism peaceably was his brand—and he put everything he had into living and breathing that message. So much so, that 50 years later, we are still talking about his speech and watching it on YouTube, showing it to our children, and we still get chills at the way this prolific speaker presented the "heart" of his dream…the "why" behind his brand.
I have a dream that my four little children will one day live in a nation where they will not be judged by the color of their skin but by the content of their character.            

— Dr. Martin Luther King, Jr.
This brand was so powerful that over 250,000 people showed up for the March on Washington with no internet, no social media, and no expansive marketing campaign. Even up to the day before the event, Dr. King was unsure of exactly what he would say but the people knew this was a life changing event the people wanted to take part in. They understood him, they believed in his messaging and with all of the unknowns, they still knew that they stood with him. They were willing to follow into uncharted territory and be part of something that would change the very world they lived in.
As Dr. King was delivering his speech to that unprecedented crowd, an onlooker by the name of Mahalia Jackson shouted, "Tell them about the dream, Martin!" and he listened to his audience and began to speak from his heart. Many say he began to preach and punctuated each point with "I have a dream…" He began to deliver the most prolific speech in the history of our country and it was unrehearsed and real.
I wonder how different our world would be if more people listened to their audience and spoke from their heart. Would crowds gather? Would people wait for hours just to hear you or see your new product? Would you live in everyday conversation because of the difference you are making? Would we be talking about you in 50 years?
I look today at Dr. King in amazement, not only of the man he was and how he changed our country, but because he knew how to harness the power of a message.